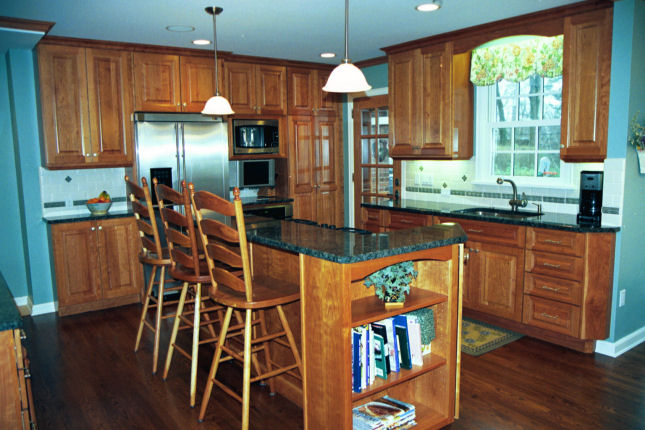 My client had a very small and dated kitchen. They needed increased counter, work and storage space. They also wanted an island with seating, a desk area , a dry bar and an eating area where a family of 5 could sit comfortably. It was important to my client that I find a way to retain their clothes chute. They did not want any posts in their kitchen. It was also important to them that we maintain the character and integrity of the house. This house is an older Shaker Heights home. The kitchen was last remodeled in the early sixties.
To meet their objectives, we combined the existing kitchen area and breakfast nook. We also removed a staircase and pantry. As a result we created an open room for cooking, eating and entertaining.
During this project, we had the house wired for sound, cable and computer access. The house was retrofitted with flexible ducts for air conditioning. A new furnace was installed on the third floor. The half bath off the kitchen was also remodeled. Many of the homes mechanicals had to be upgraded, including extensive electrical upgrades.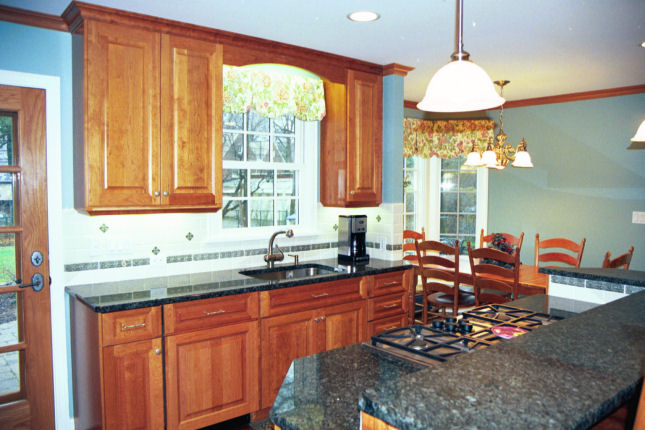 After
New sink run with new Marvin window and partition wall removed.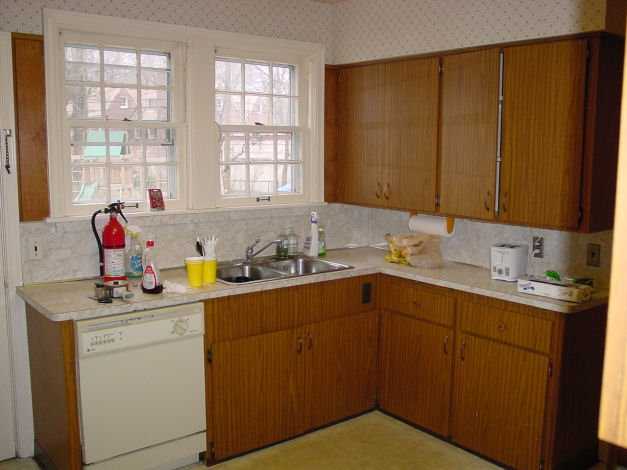 Before
Existing sink run. My client needed storage to the left and right of the sink. They did not like looking at the large divider between the windows.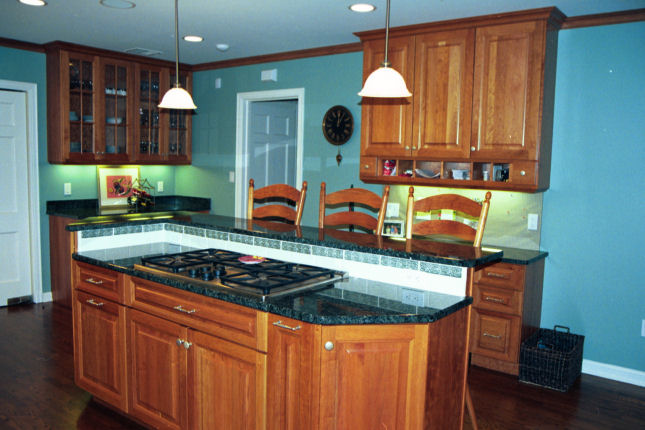 After
New view of old cook top run. Staircase has been removed. New island with seating area, cook top and down draft vent.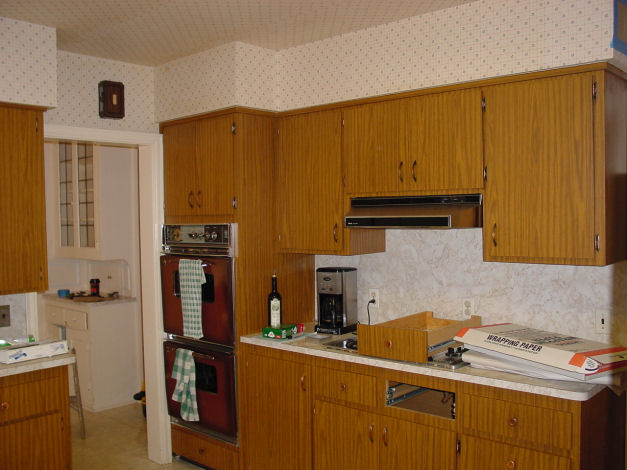 Before
Old cook top run. This wall and a staircase behind it are to be removed.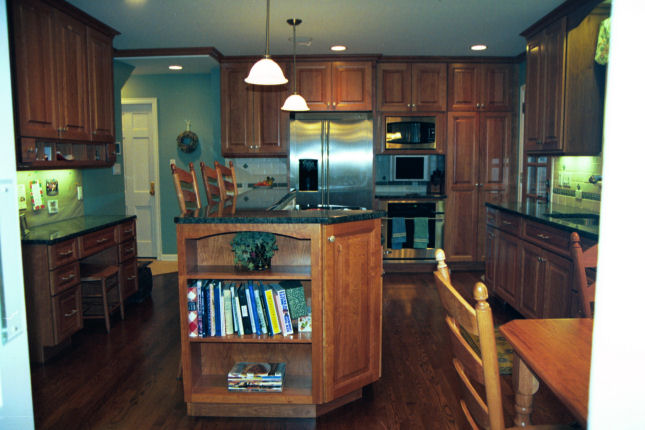 After
View from across kitchen of refrigerator run. Relocated the oven and added television below microwave.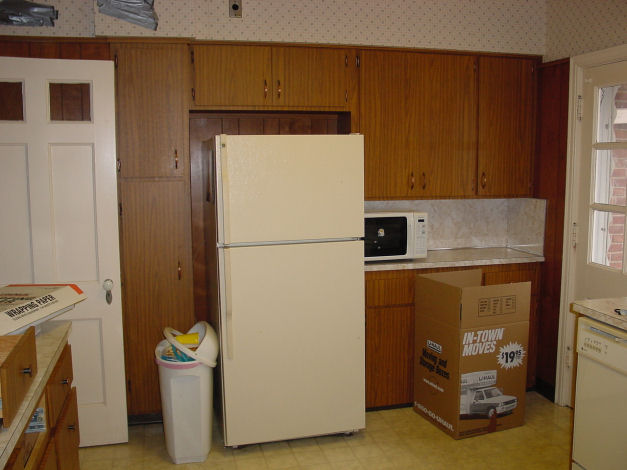 Before
Old refrigerator run. Door and jamb on left to be removed.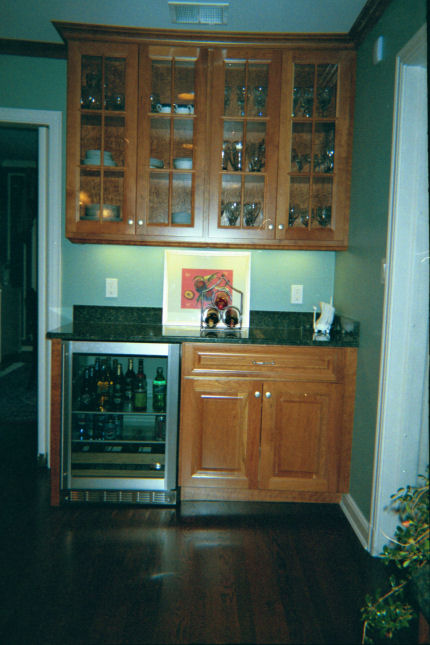 After
New dry bar and beverage center same location as above picture. Note the duct in ceiling. During this project we had the house retrofitted for air conditioning and a back up gas furnace was added for additional heat. The main heat source is still steam.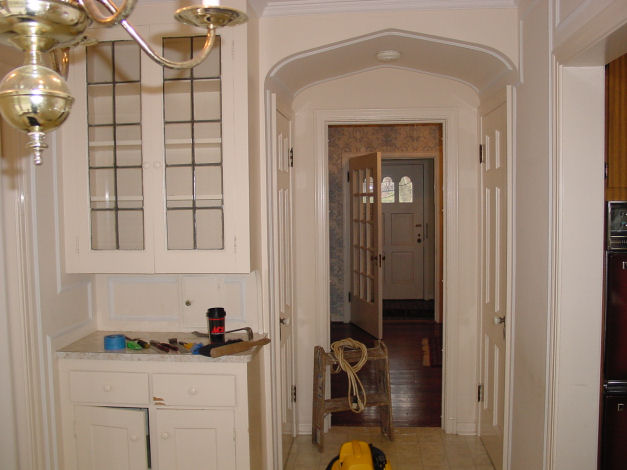 Before
Old east end of breakfast nook. Cabinets, plaster arch and closet to be removed. Clothes chute is behind glass door cabinet and must be relocated.
After
Finished view west end of breakfast nook. Bay windows have been replace with Marvin simulated divided light windows. The roof of the bay was re-coppered. The kitchen table and chairs were custom made of cherry for this kitchen. Steam heater has been relocated from wall to below window.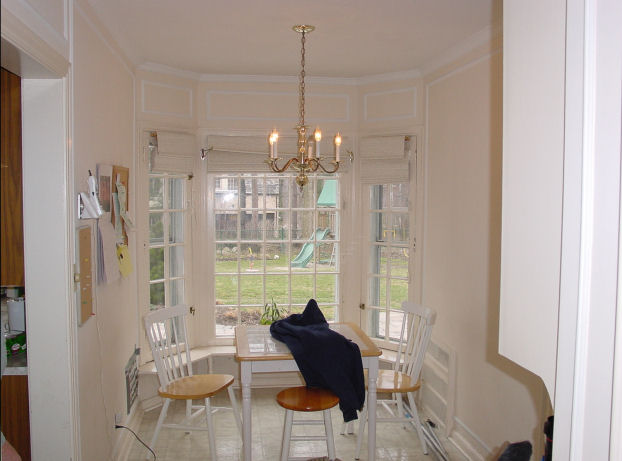 Before
Old west end of breakfast nook.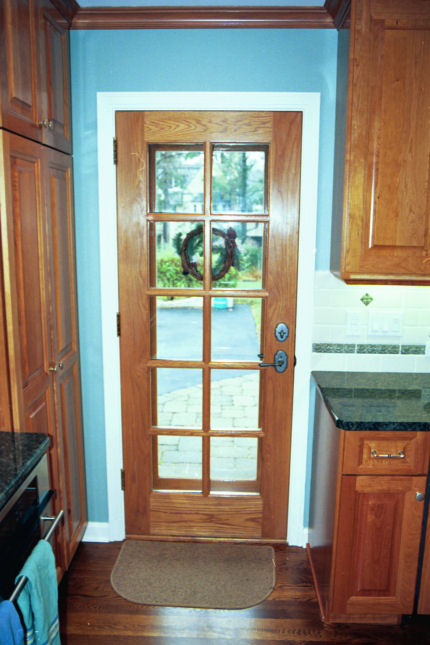 After
New custom built true divided light door with insulated glass and full view storm door. Doors are made out of white oak and were made in Middlefield, Ohio. All old linoleum and oak flooring was ripped out and new select white oak flooring was installed to match existing flooring throughout house. All moldings were custom milled to match trim in the rest of the house. Cabinets were custom build of cherry.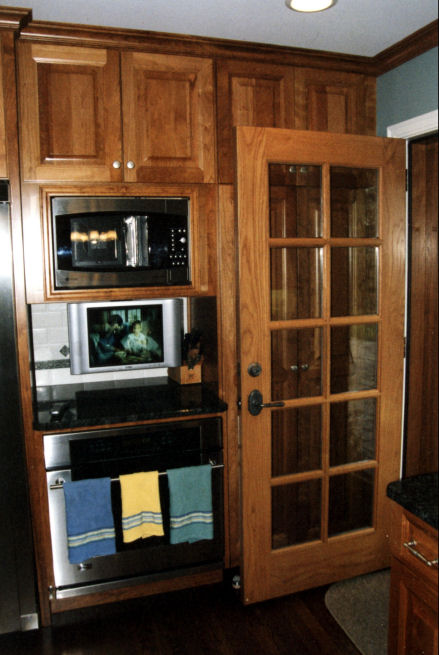 After
The kitchen was wired for sound, cable and television. Note the flip-down TV below the microwave. As part of this project, many rooms throughout the house were wired for sound and computer access.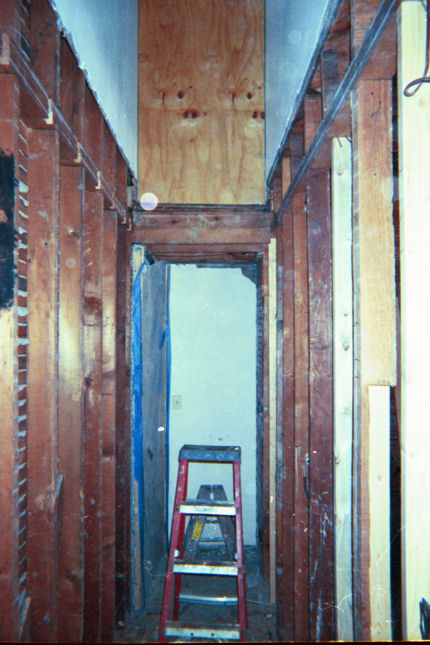 During
Loft area. The staircase has been removed. Support wall is still in place.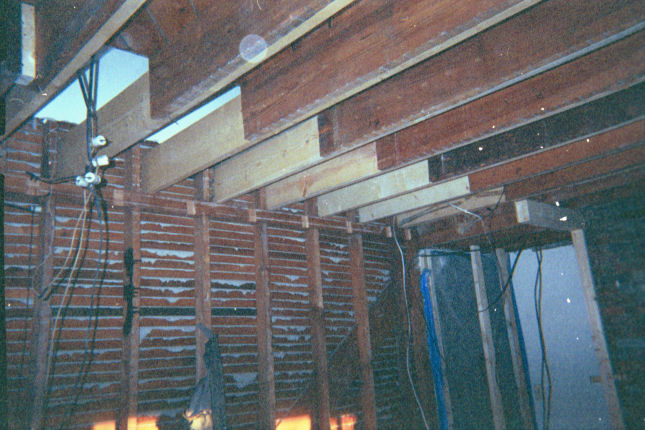 During
New 2 inch by 10 inch by 16 foot joists have been installed. Notice that the plate had to be notched so that we could get the joist in place. Many wires had to be moved but by installing new joists we were able to accommodate our client`s wish of no support posts in the kitchen. New joists had to be installed without damaging plaster on the lath. The other side of this wall is the main staircase and the walls were papered just before we started this job.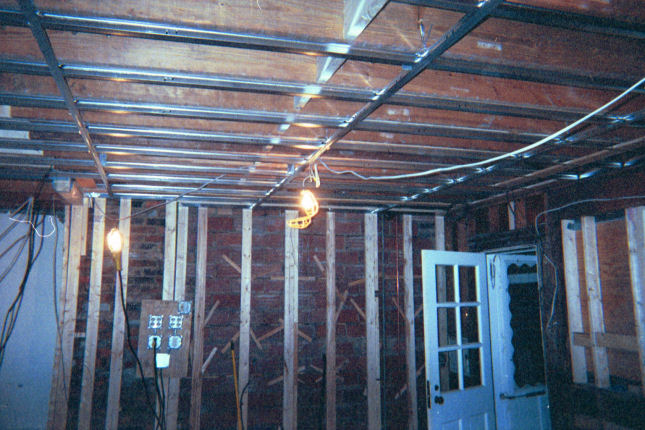 During
After installing new joists, we installed a steel ceiling grid for drywall. The house has settled some over the years. By installing the grid we were able to make a level surface to install our drywall to. The ceiling came out beautiful!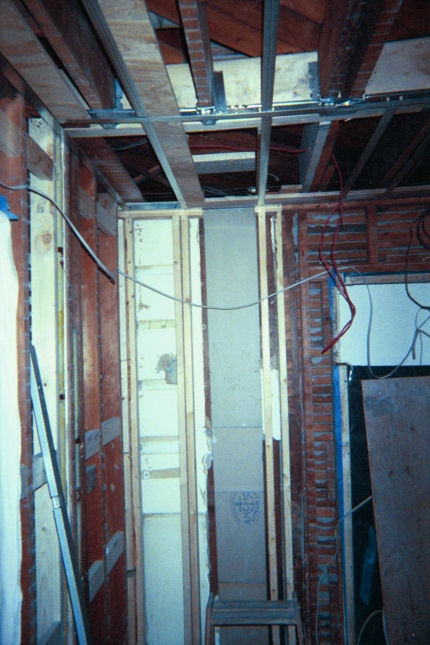 During
This picture shows the relocated clothes chute. We were able to move the clothes chute but we had to take apart the second floor linen closet. This required putting up a lot of dust control on the second floor. A lot of work, but it made the homeowner very happy.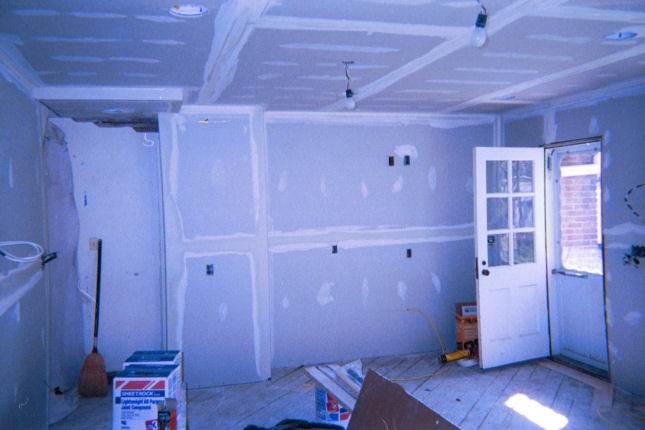 During
The room being dry-walled. Note all flooring has been ripped up down to the original sub-floor.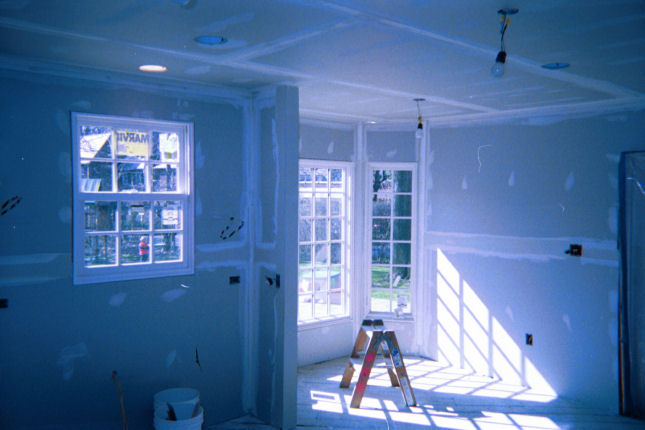 During
This picture shows Marvin SDL windows. Marvin was able to make custom sized windows for our bay window. They were shipped quickly.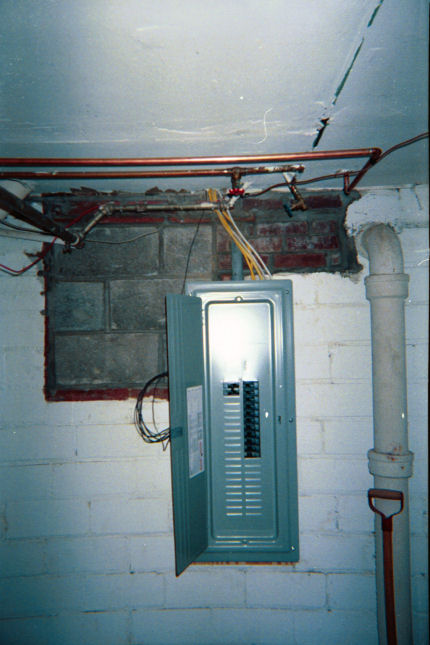 During
One of two new circuit boxes installed. This box was installed over the old coal chute which we had to remove. We also had to replace the old galvanized piping and relocate the steam lines.
Portfolio