2019 CotY Award
First Place, Residential Bathroom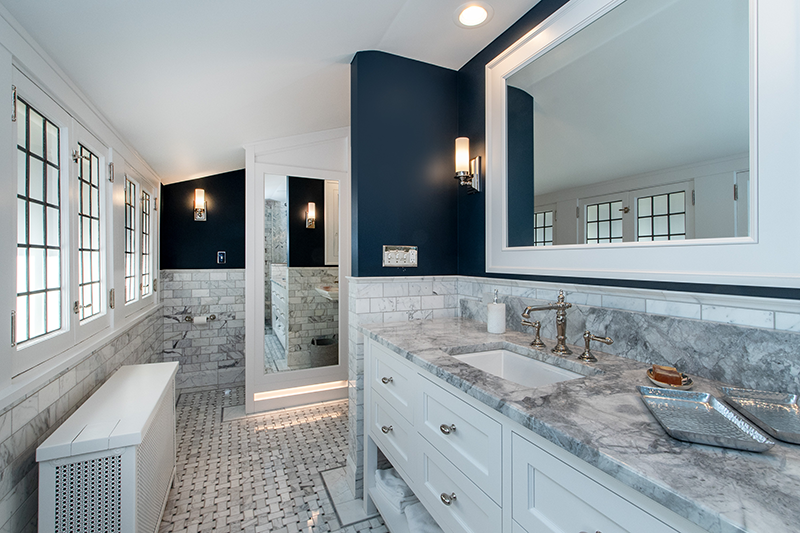 Our remodel takes place in a community of stately historic homes, and this particular house is no exception at 100-years-old. Our homeowners' love for their old house and their city runs deep. In fact, one of the homeowners is a city planner who daily tackles the challenge of maintaining a vibrant community. Passionate, skilled and opinionated—this couple readily admits they are demanding clients!
Before hiring us, they needed help. Two substantial DIY home projects that were underway had come to a grinding halt. Their current master bathroom packed in a tiny gable needed more than a remodel, it was begging for additional space. (And finding the right layout stumped our homeowners and other professionals whom they consulted.) Our clients wanted modern conveniences—including a whole house AC system—while maintaining a historically relevant remodel. Finally, they needed a home remodeling professional that could perform the quality of work while handling the challenges of an old home.
The former master bathroom was so tiny only the husband used it. The couple had never shared a bathroom before this remodel. Accustomed to their own space, they asked for the new design to keep their individual areas while allowing them to share a larger bathroom.
To meet our clients' needs we combined two rooms: the original bathroom and a small office/closet to create a spacious bathroom that included a pedestal sink for him and a large vanity for her. We also added an elegant shower, a toilet with a privacy wall, and a marble dressing table.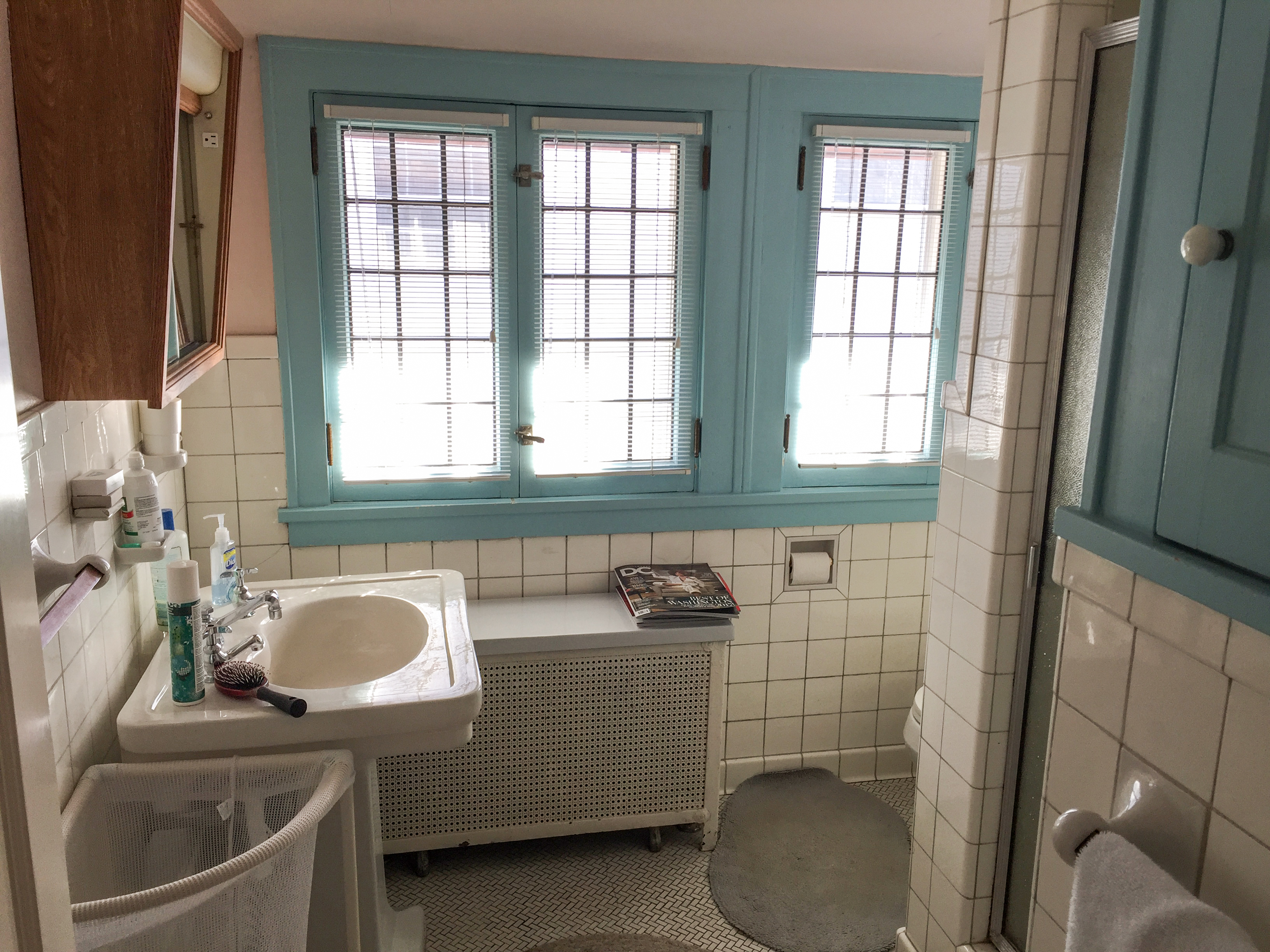 Before: tiny master bathroom
Before
• Bathroom was so small only the husband used it
• Pedestal sink was the only sink in this tiny bathroom
• Newer wall-hung medicine cabinet did not match the period of the home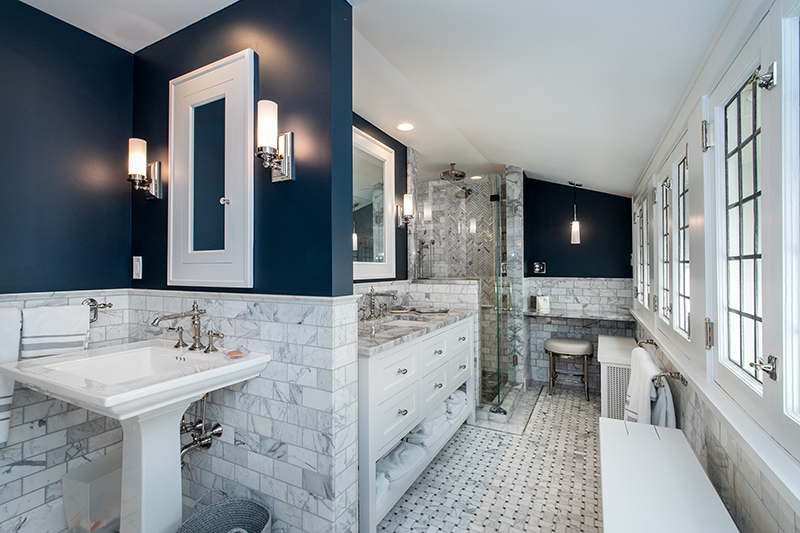 Historically relevant remodel
Husband asked for a pedestal sink for his space. The pedestal sink is modern size with a heritage style
Wife asked for a custom-built vanity furniture style. Features 6 drawers and Super White quartzite top
As requested: 2 sinks allow them to use the same bathroom. Medicine cabinet with mirror is built into the wall to provide storage.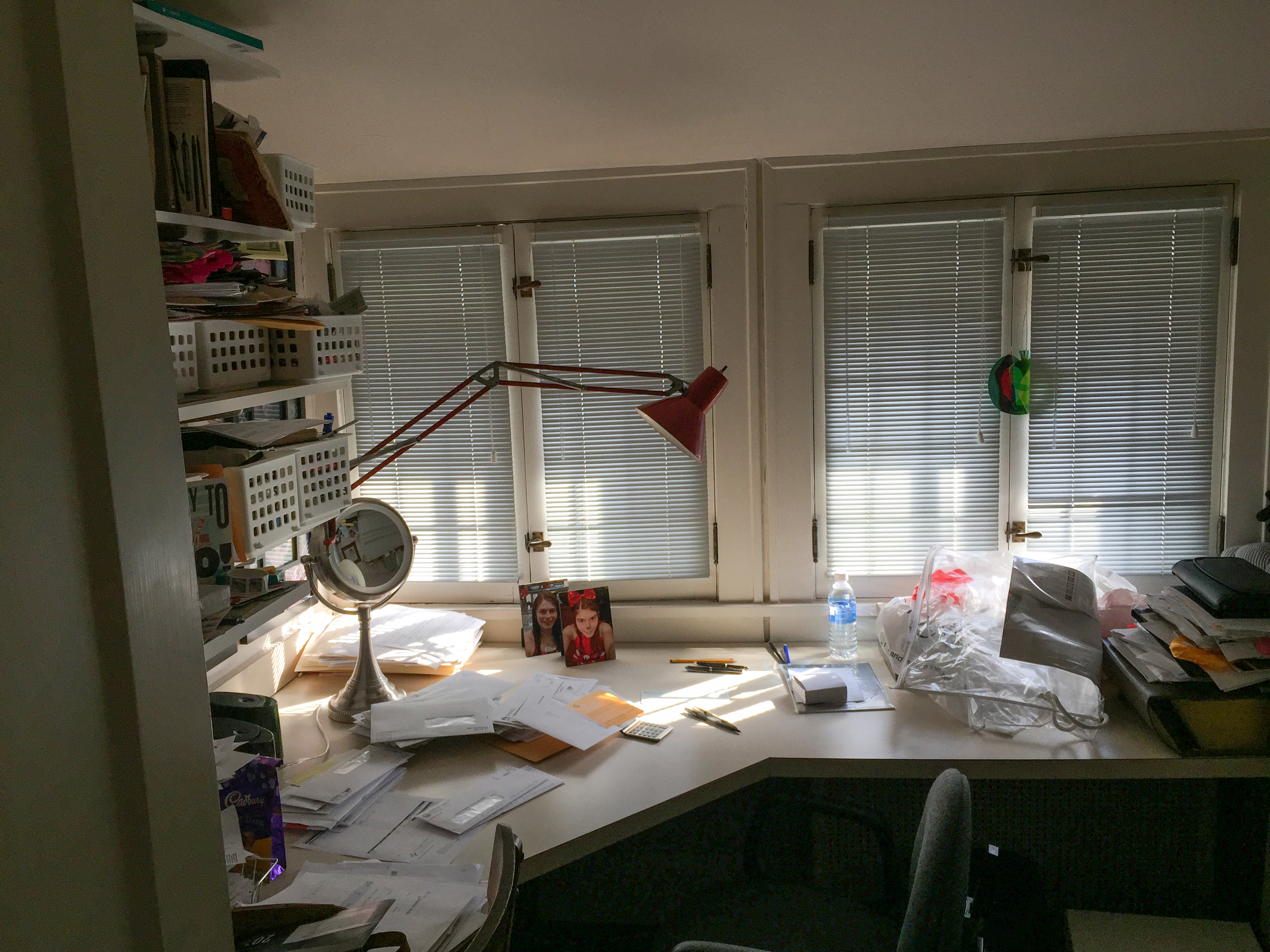 Before: closet and office
Before
• Original leaded glass windows in both bathroom and office
• Windows didn't close properly and had poor weather stripping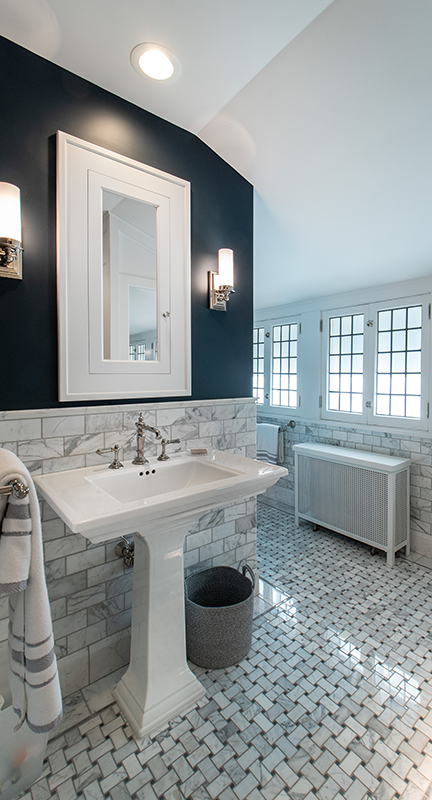 Marble floors, windows restored
 Original leaded glass windows restored and rehung
We added weather stripping as well as reproduction ball tip hinges and latches finished in polished nickel
Radiator covers restored and painted white
Client asked for marble floors in a basketweave pattern which mimic floors they love in a historic hotel in Washington D.C.
We delivered this basketweave and bardiglio gray marble tile that was not easy to supply
My client requested a specific shade for the bardiglio dot in the floor; our tile supplier fabricated this
basketweave to meet their request
The floor also features a bardiglio border cut on site by our tile setter.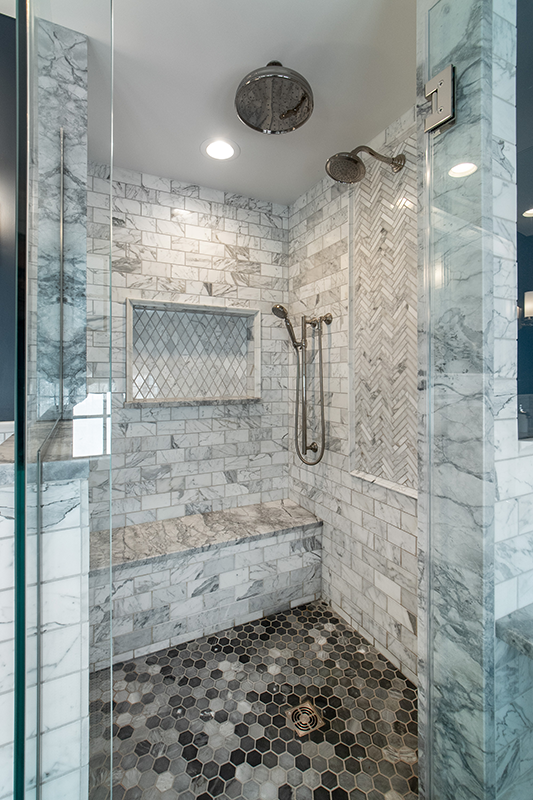 Shower
After the master bathroom remodel:
• Client admits the shower is the most important feature
• Large bench with quartzite seat, the jams are full height and cut from the same slab.
• Frameless glass shower door feels open but a half wall gives privacy
• Creative use of multiple marble tile sizes and patterns
• Large niche above the bench features statuary marble using a harlequin pattern.
• Shower floor is bardiglio marble in hexagon shape
• 3 shower heads: rainfall, wall mount, handheld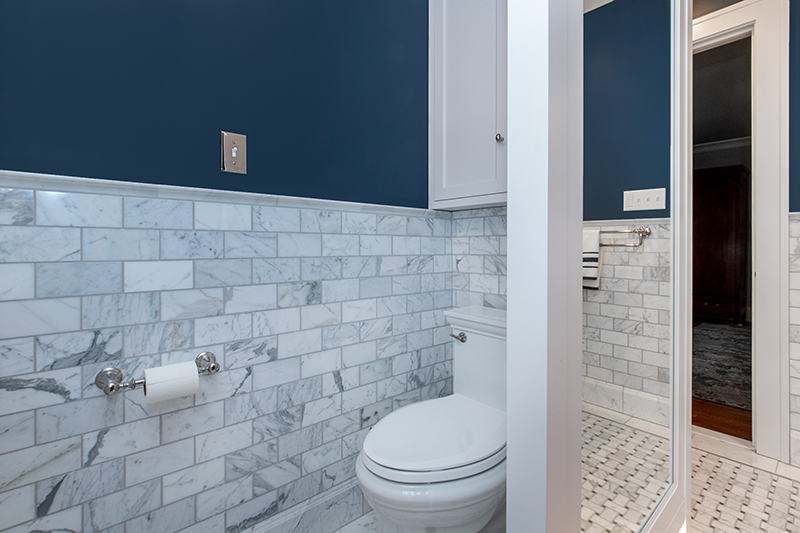 Toilet
After the master bathroom remodel:
• Wall tile updated to 3×6 polished statuary marble tile
• Toilet relocated; ran new plumbing and new stack down to basement
• To solve clients needs we created custom privacy screen for the toilet
• Large storage cabinet hangs above toilet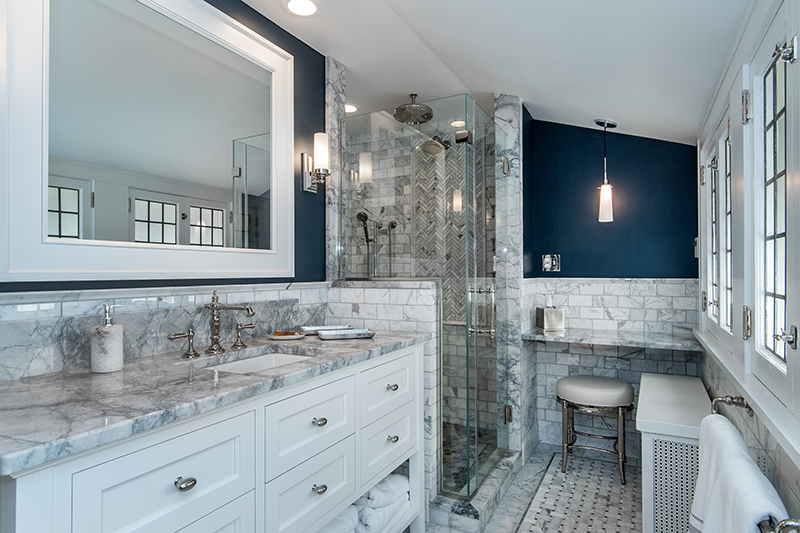 Her bathroom vanity
As she requested, we crafted a vanity that looked like a freestanding piece of furniture, a large mirror with a custom frame, super white quartzite countertops and heritage-style faucet. The back of the bathroom is the steam shower with 4 valves and 4 shower heads. And finally the dressing table of quartzite and renovated boxes for the radiators.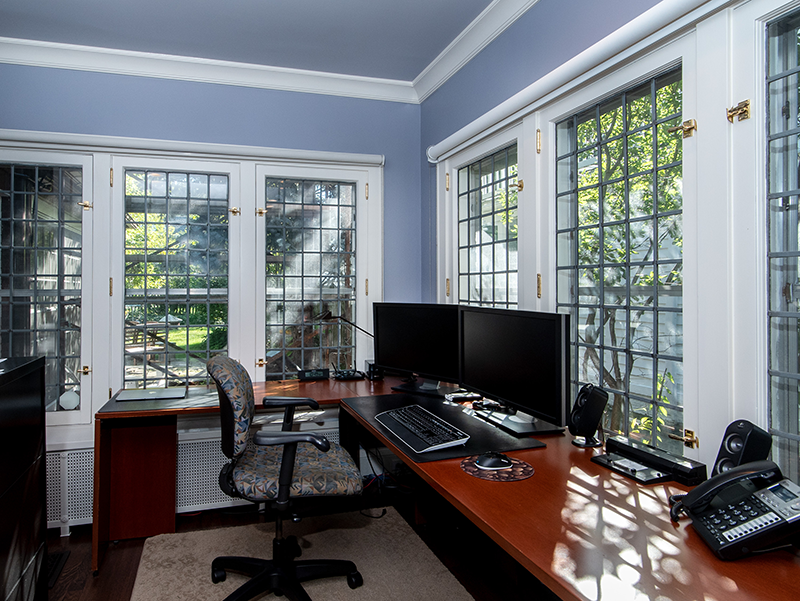 Office below the Bathroom
During
Below the bathroom sits a home office. The ceiling of the office was damaged from shower above
We cut open this ceiling to run a new stack to the basement; added new LED lighting, repaired ceiling
Duplicated 100-year-old crown molding
Put the house back together during the holidays all while the family was living in the home
Windows in home office were rebuilt and new hardware installed
Portfolio